Here are some Afghan Patterns that I love.

Cape Cod- this afghan has almost a venetian tile look to it to me
Field of Dreams- Flower afghan

Country Star- I love the traditional quilt look
Stained Glass Motifs- bright flowers outlined in black
Country Tweed- would make a great ghan for a guy
Calm Green- granny squares variations
Eyelet Strips- makes a lacy effect
Irregular Squares- kind of like a log cabin quilt
Floral Hexagon- bright colors
Tree of Life- This is an amazing afghan with the trees in relief
Sampler Throw- lovely Textured Stitches
Village Square Afghan- variations on grannies
Zig-Zag afghan- could be done in western colors
New Wave Throw- pretty purple waves
Showpiece Afghan- this reminds me of the ribbons given as prizes at the fair
Sunburst Afghan- a pretty star quilt afghan
Jiffy Patchwork- really colorful
Log Cabin- really love the colors in this, would make a great ghan for a guy too
Blue and White Quilt- the name says it all
Catherine's Wheel Throw- this style is also called Bavarian Crochet
Tunisian Throw- a sample throw with lots of Tunisian stitches
Prairie Star- traditional star quilt
Rearing Stallion- so cool
Lots of Row Count Afghans- so many to choose from
Kaleidoscope Afghan- lots of hexagons

Passion Starflower Afghan- very colorful squares
Granny Motif Mania- beautiful squares
Refreshing Throw- I love the lacy squares

Swirling Fans- lacy fans in one color

Rose Afghan- roses on cream pannels

Black afghan with Roses- flowers on black squares

Empire Afghan- I love the combination of pink and gray

Victorian Afghan- elaborate flowers on a cream background
American Rose- Roses on a blue background
Loop Stitch Afghan- flowered hexagon squares

Hexagon Flower Afghan- each pretty flower is bordered with pink and blue
Purple Popcorn Afghan- I like the pattern way more than the name
Granny Afghan- very retro
Love and Kisses Throw- simple stripes and very pretty
Ripple Afghan and Pillow- I especially like the pillow that matches the afghan
Marie Antoinette Afghan- this is so lovely. I think it is amazing crochet
Shaded Diamonds- amazing colors

Rectangles and Squares Granny-ghan
Scrumptious Scrapghan- a great stash buster. It has a little of the look of the stained glass patterns

Lacy Strips- for a very light throw

Horse Rearing- chart

English Horse Jumping- chart

Loop Stitch Ripple- it gives the ripples fringes of loops
Tiles Granny Afghan- looks like overlapping granny squares. I think the colors need high contrast to look the best.

Ripple Afghan with Overleaf Stitch- this makes the usual ripple ghan so much more interesting
Box Shell- pretty open work

Ribbon Afghan- cane we say "stash buster?" I like the way interest is created with the stitch

Aran Afghan- beautiful textured pannels

Skipping Stones- a round afghan that does look like radiating ripples from a stone cast in water. I think I would make it in shades of blue.

Yo-Yo Ghans- a general pattern for making yo-yos, but also various ways of joining them to get different looks
More Yo-Yo's- yo-yo scrap afghan

Flower Power Yo-yo Ghan- yo-yo's grouped into flowers.

Autumn Ripple- nice ripple ghan done in autumn tones, with an attractive side border.

California Ranch- very western ripple, done in a sunset red.

Granny Ripple- combines classic granny squares with traditional ripple pattern
Classic Granny Ghan- the colors chosen in this classic make it gender neutral
Solas Caohm- (Irish for Tender Comfort) I love the cables on this afghan. It is not a free pattern, but just looking at the picture makes me itch to get out my hook and try designing my own.

Drops Blanket- very pretty with nostalgic granny squares

Magnolia Afghan- I love the large motifs in the center

Spiral Throw- almost looks like swirling water
Rainbow Afghan- very pretty color scheme

Victoran Rose Wreath- white background with a circle of roses and other flowers, beautiful
Sunrise, Sunset- has alternating blocks with sun motifs

Sunflower Afghan- these are great sunflowers

Southwest Stripes- love the western flare- I can see adding some copper beads in the fringe or in the stripes

Snowflake Afghan- I love the snowflakes on this one
The Primrose Path- I like the crisp contrast between the flowered panels and the white panels
Seashell Afghan- I do not understand why this is called a seashell afghan, but I love the reds, I'd also love to work it in greens and imitate the colors of malachite

Swedish Embroidery- this afghan uses a technique that leaves unworked stitches to go back and embroider into at the end
Moroccan Tile Afghan and Pillow- I love the Moroccan colors in this

Dolphin Square Afghan- small squares with a jumping dolphin in each

Desert Canyon- love the western colors

Colony Afghan- lots of flowers surrounded by lace

Flamenco Fling- this is a brightly colored afghan done in shells.
Aztec Medallions- this has a great western flare to it

Jumble Throw- a simple granny ghan that would be great for stash busting

Broomstick Lace Afghan- no picture
Branches and Berries- lots of textures, Aran style
Striped Afghan- this is a pretty stitch for stripes
Blush Rose- rose squares
Apple Basket Afghan- this is cross stitched on afghan stitch
Apache Tears- kinda like arrow heads in rows
Blanket of Roses- rose hexagon blocks
Amore Tiles- this is done in white blocks and smaller colored blocks, simple and elegant
Andalusia- this afghan is done in one color but the lace and flower stand out so beautifully, gotta love it
Argyle Crochet- ok, not sure how the name fits, pretty geometric color blocks
Arran Afghan- pretty and textured

Flower Picture Lapghan- made in granny squares

Nascar Logo Charted Design- for the Nascar fan in your life

Two Color Reversible Shells Afghan- I like having something reversible and this would be warm for sure.

Granny Square afghan- pretty variation on the traditional motif

Jacob's Ladder Afghan- and then there is a nice little tutorial for it here

Granny's Attic- simple granny squares done in dark and light shades to suggest shadows cast by light through a high window. Might make a good pattern to use up stash yarn.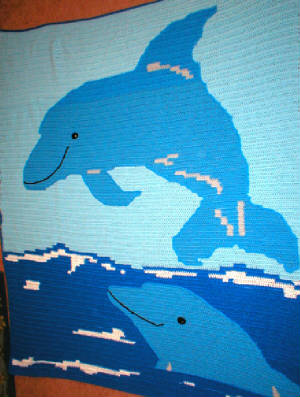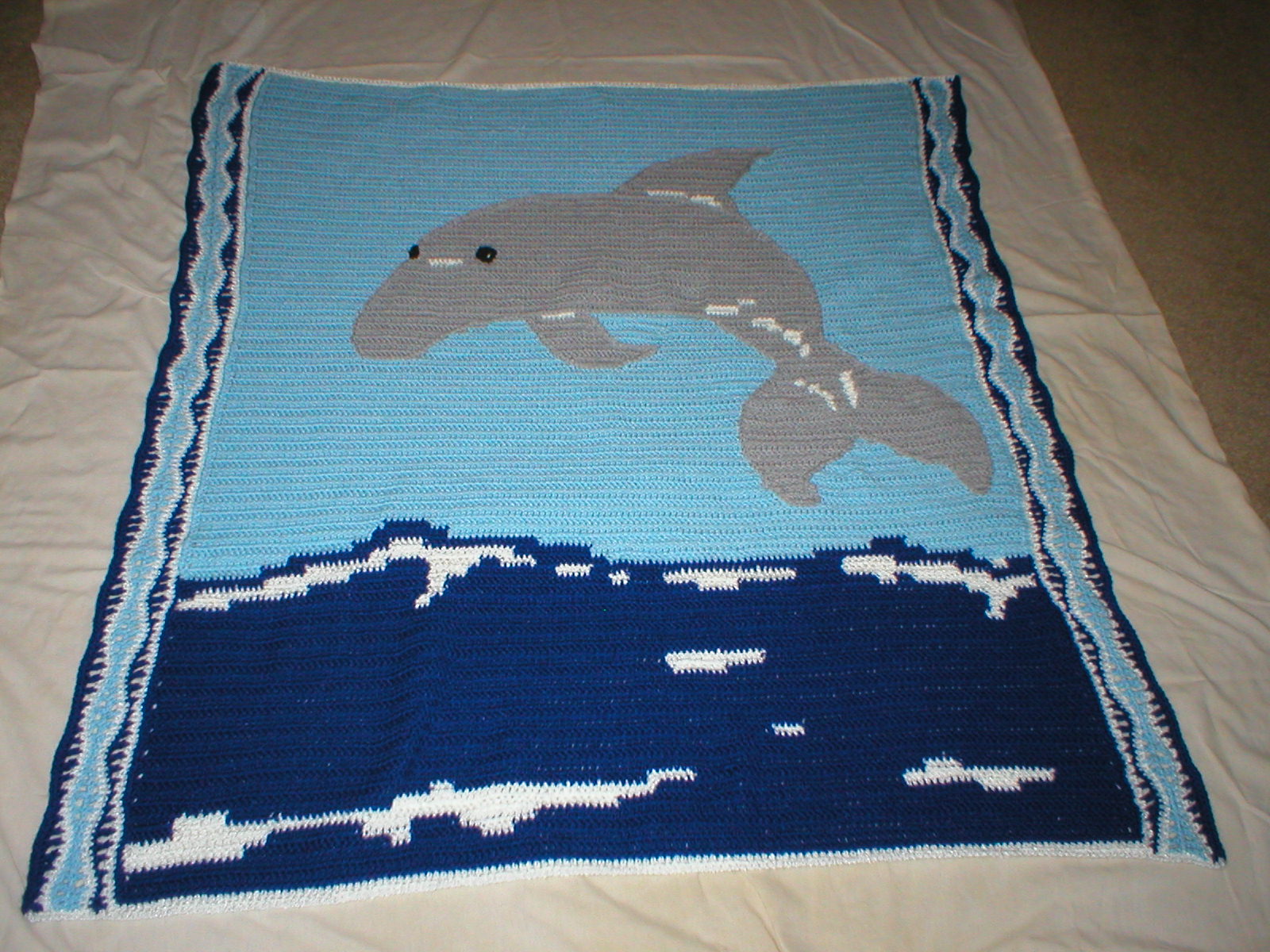 This is an afghan that I made for a couple of friends

who love whales and dolphins. The afghan is large

enough to cover a double size bed.

This is a smaller lapghan that I made based on the other

dolphin pattern. I really loved how the border turned out.

It made the whole project pop. I adapted the border from

an afghan that was completely done in rows just like this

border.